The Horsham Ag Society welcomes new members who are interested in volunteering their time to assist with the organisation of the annual Horsham Agricultural Show which is held in Sept/Oct (the middle weekend of the September school holidays).  In addition to the Show, Horsham Agricultural Society members can help raise money through various fundraising activities held at the Showgrounds.  In 2021, launched our signature event, the 150km Feast.  (See EVENTS tab).
Our committee members are acknowledged as councillors in a formal sense.  Our 2022 Horsham Ag Society Annual Report can be found on this link.  A copy of the last Horsham Ag Society Annual Report  for 2020/2021.
The official opening of new facilities including a new administration office, toilets and a lighting upgrade on the east side of the stables where festivals are celebrated at Maydale Reserve, was held on Sunday, March 20, 2022 at 11.30am by Dr. Anne Webster MP.  The federal government provided $124,999 funding for these projects in 2021 which are now completed.  MEDIA RELEASE – OFFICIAL OPENING OF NEW FACILITIES COINCIDES WITH WIMMERA AUTUMN MERINO SHEEP SHOW 2022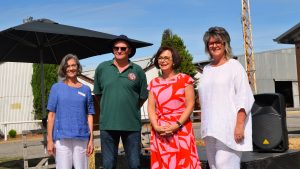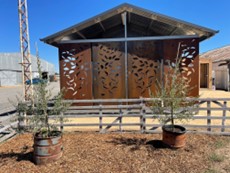 The new office of the Horsham Ag Society is  in Maydale Pavilion which is accessed via 22 McBryde Street entrance.  The Maydale Reserve is open Tuesdays – Thursday 8am – 5pm and Fridays from 9am – 1pm.  These hours may vary, so we recommend you phone first! 
The vintage stables and other historical buildings, including The Cattle Shed provide a unique backdrop for wedding ceremonies and receptions.  The land on which these buildings are settled is known as Maydale Reserve and they overlook the picturesque Wimmera River.  
The grounds are hired out for swap meets, expos, outdoor movies, BBQ cooking competitions and more. Camping facilities are available for people attending our events and festivals as well as those travelling through with horses who need overnight stabling.
The Maydale Reserve is maintained by volunteers and several staff.  A strong relationship between the St Brigid's College and the Society enables us to support secondary college Year 11 and 12 students by providing assistance with their community projects and opportunities for work experience.  We also enjoy strong partnerships with job agencies with Work for the Dole projects and AXIS Employment for other job seekers. 
For more information about hiring venues at Maydale Reserve etc, please go to our USER GROUPS & HIRING PAGE.

If you would like to know more about becoming a member of the Horsham Ag Society, you can join here.
HORSHAM AGRICULTURAL SOCIETY PARTNERS