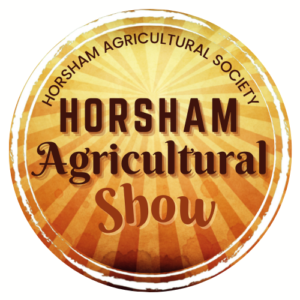 Horsham Rural City's 2020 Australia Day Community Group of the Year, took our award winning event to new heights by celebrating Victoria's first virtual agricultural show in 2020 and we did it again on September 26, 2021 after cancelling on August 27.
Depending on restrictions, the Yard Dog Trial, Horsham Horse Show and the Miniature Goat Show may still go ahead on different days.  Follow us on Facebook to keep up to date.
The Fleece Competition will be forwarded to the Wimmera Autumn Merino Sheep Show on March 19 and 20, 2022.
Media Release – 2021 Wimmera Autumn Merino Sheep Show 
The Virtual Horsham Shows 2020 & 2021
The traditional Grand Annual Agricultural Show, like so many others, did not go ahead as usual in 2020 or 2021.  The last time a Show was cancelled was during WWII.
The Horsham Ag Society succeeded in delivering a virtual show program, the first in Victoria, as we overcame adversity during the COVID-19 pandemic.  Our priority was to continue to keep connected to families as they get back to basics around the kitchen table baking, making, growing and creating during the stay at home restrictions, with our online competitions.  This was evident on Show Day, with a full program running on Facebook from 9.45am to 10pm with over 150 posts.  Overall a reach of more than 10,000 people for a show which is usually supported by between 2,000-4,000, depending on the weather!  The week's following reached 30,000 people.
With only one month to prepare in 2021, once again we were successful in delivering a smaller virtual show on Facebook this year.  With a smaller reach of over 15,000 people during Show Week, compared to last year but we were delighted to have more than double the number of competitors with over 150 people sending in their photos of their entries.  Reduced to just one sponsor this year, we proudly tell the world that Horsham Finance is the place to go, if you're looking to finance a new property, vehicle or farm equipment!

A partner of the Horsham Agricultural Society Inc.