COVID SAFE REQUIREMENTS – ALL OUR EVENTS ARE REGISTERED WITH DHHS
Each attendee is asked to do a symptom self-assessment prior to leaving home and not attend if they are unwell or have been instructed to isolate or quarantine.
Attendees must maintain at least 1.5m physical distance between those from other groups at all times.
To minimise movement, attendees must stay within their allocated spaces or seats where practical.
Requirements for face covering, observe cough etiquette and personal hygiene measures.
TOURS
Launched on May 18th, join us for tours of the historical precinct of Maydale Reserve.  Tours are open at 11am on Wednesdays or by appointment (minimum number of people 5.)  Admission is $10 per person.

MAYDALE RURAL MARKET
The Maydale Rural Market is a virtual market which was designed to complement our virtual show, Victoria's first virtual show.  Producers, makers and growers are coming on board regularly to provide you a marketplace on your screen!  Buy direct! Sell direct, all year round!  The demand for an event like this and for our virtual show has come about due to the effects of Coronavirus and we're taking it head on!    Our market partners are listed here.

2021 GRAND ANNUAL HORSHAM AGRICULTURAL SHOW.
Sadly we've had to cancel the 2021 Grand Annual Horsham Agricultural Show.   While the Show may be off, it doesn't mean you can't get ready to Show-Off your exhibits in our virtual Show…..yes after last year's virtual Show, we've jumped back in only 4 weeks out from what was to be our annual spring Show.  Get your updates from Facebook.
In the meantime, here's a snapshot of what Victoria's first virtual show looked like…..VICTORIA'S FIRST VIRTUAL SHOW 

NEW YEAR'S EVE
Covid restrictions dependent, this event will be going ahead on December 31, 2021.
RURAL WOMEN'S DAY
October 15 is that national date to celebrate rural women.  The Horsham Ag Society is considering if we can fit that into our calendar for 2021.  Would you join us?  Let us know if you're interested in hearing stories from amazing rural women over a breakfast and good coffee!
Our Executive Officer is going to be the Guest Speaker at the Rural Women's Day in Hamilton this year.  For more details on their event, please email us.

50 IN THE SHED
NEW EVENT  Following the success of the 150km Feast, the Horsham Ag Society is working with local chef Stewart Neighbour and Melbourne chef Sam Pinzone who's worked under Neil Perry & Jacques Raymond to bring you a world class dining experience in The Cattle Shed at Maydale Reserve on Saturday, November 13.  Tickets for this exclusive 5 course meal with matched wines will be on sale soon at $200 for members and $240 for non members.  If you'd like to receive member discount, join here.

#AGDAY2021
This national event is celebrated across the nation on November 20.  We will be celebrating our farmers again in 2021.  Contact us to find out how.  #agdayAU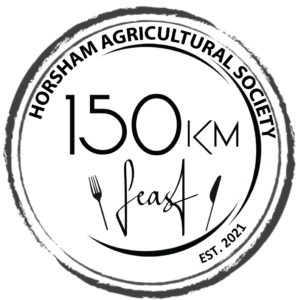 150KM FEAST  – 19 February 2022
150km Feast brief.  Following on from our successful inaugural 150km Feast in February, please join us on February 19, 2022 for our next feast! Tickets are $150 for Horsham Ag Society members and $175 for non members.  If you'd like to become a member for $55 you can buy up to 6 tickets at the member discount price.  Click here to join.
 Snapshot of the 2021 150KM FEAST
SOCIALS
A feast too good to miss!  Follow us on Facebook and Insta for updates.  Contact us direct at 150kmfeast@gmail.com

WIMMERA MERINO SHEEP SHOW
The Wimmera Merino Sheep Show will return in 2022, after it's very successful inaugural event on March 21, 2021.