In these everchanging and uncertain times, the team at the Horsham Agricultural Society at Maydale Reserve, is  committed to provide a safe and inclusive venue for our indoor and outdoor events.
We want you to feel safe in our environment and share the memories you create and celebrate the good times had.
COVID SAFE REQUIREMENTS – ALL OUR EVENTS ARE REGISTERED WITH DHHS
Help us prevent the spread of COVID-19
Do not attend if you are experiencing any symptoms of COVID and/or have been in contact with a confirmed case
Be kind to those around you which includes our staff and volunteers – they want you to have the best experience too!
Each attendee is asked to do a symptom self-assessment prior to leaving home and not attend if they are unwell or have been instructed to isolate or quarantine.
Please QR or manually sign in on arrival at which ever entry point you are directed to
Face masks must be worn indoors and outdoors
Attendees must maintain at least 1.5m physical distance between those from other groups at all times.
Avoid close contact with other people
Wash your hands frequently with soap and water for 20 seconds
Use hand sanitiser (including before and after eating)
Sneeze or cough into the elbow
To minimise movement, attendees must stay within their allocated spaces or seats where practical.
THE WORKSHOP COLLECTION – NEW DATES!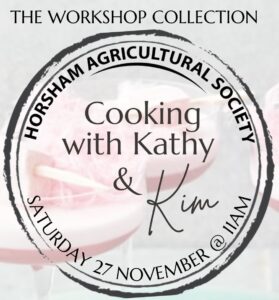 COOKING WITH KATHY & KIM – We may have missed the Horsham Show but with restrictions lifted we can now support the activities of the upcoming Kannamaroo Festival.  This cooking workshop with local identities, Kathy Cross & Kim Driller, you'll learn how to cook up a storm and also get to taste the delights cooked in front of your eyes!  Hosted in our workshop, there'll be the buzz of the Kannamaroo Festival on the grounds as well.  This promises to be a great day out.   TICKETS HERE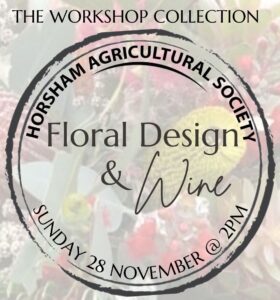 FLORAL DESIGN & WINE – is brought to you by Rachel from Rane Flowers of Edenhope on Day 2 of the Kannamaroo Festival, which is the quieter day at the Maydale Reserve.  In this intimate setting you can choose from a boho style of flowers in a tin bucket, an unstructured bouquet or a flower crown while enjoying a grazing box and 2 glasses of wine or bubbles.
Bring your own creative spirit!  TICKETS HERE
A RUSTIC KIND OF CHRISTMAS PARTY
Bring your staff down to Maydale Reserve and join other business owners! Opening at 5pm and closing at 11pm in a very casual atmosphere in the Stockmen's Beer Garden. Street food is on the menu for you to pre-order. Details will be emailed to you once you've booked. Numbers will be capped at 150 people. To help us to set up Horsham biggest Christmas party, there is a covercharge of $10.50 per person (inc GST & booking fee) & includes a live band. The silo bar & shearer's bar will be open – sorry, no BYO!  BOOK YOUR SPACE HERE

NEW YEAR'S EVE
Get ready for this FREE community event on December 31, 2021.  Gates open at 6pm.  Food, drinks, bar, kids activities and more!  BYO gazebos, chairs, tables and picnic rugs.

AGDAY2021
This national event is celebrated across the nation on November 20.  We will be celebrating our farmers again in 2021.  Contact us to find out how.  #agdayAU

FIFTY in the SHED
NEW EVENT  Following the success of the 150km Feast, the Horsham Ag Society is working with local chef Stewart Neighbour and Melbourne chef Sam Pinzone who's worked under Neil Perry & Jacques Raymond to bring you a world class dining experience in The Cattle Shed at Maydale Reserve on Friday 4th February and Saturday 5th February 2022.  Tickets for this exclusive 5 course meal with matched wines are ON SALE NOW at $200 for members and $240 for non members.  If you'd like to receive member discount, join here.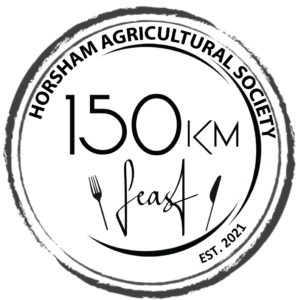 150KM FEAST  – 19 February 2022
150km Feast brief  Following on from our successful inaugural 150km Feast in February, please join us on February 19, 2022 for our next feast!  TICKETS ARE ON SALE NOW at $150 for Horsham Ag Society members and $175 for non members.  If you'd like to become a member for $55 you can buy up to 6 tickets at the member discount price.  Click here to join the Horsham Ag Society for discount tickets.
 Snapshot of the 2021 150KM FEAST
Follow us on Facebook and Insta for updates.  Contact us direct at 150kmfeast@gmail.com

WIMMERA MERINO SHEEP SHOW
The Wimmera Merino Sheep Show returns on March 19 complete with Yard Dog Trials, Wimmera Autumn Merino Sheep Show, Fleece Show and hopefully a Shearing & Wool Handling Competition.

144th GRAND ANNUAL HORSHAM AGRICULTURAL SHOW.
We recently celebrated our second virtual show in the history of the organisation.  We look forward to getting together with the community for the 2022 Horsham Show, pending restrictions.
Get your updates from Facebook.
In the meantime, here's a snapshot of what Victoria's first virtual show looked like…..VICTORIA'S FIRST VIRTUAL SHOW 
A snapshot of our second virtual show which we branded Horsham Show-Off is coming soon.
TOURS
Launched on May 18th, join us for tours of the historical precinct of Maydale Reserve.  Tours are open at 11am on Wednesdays or by appointment (minimum number of people 5.)  Admission is $10 per person.

MAYDALE RURAL MARKET
The Maydale Rural Market is a virtual market which was designed to complement our virtual show, Victoria's first virtual show.  Producers, makers and growers are coming on board regularly to provide you a marketplace on your screen!  Buy direct! Sell direct, all year round!  The demand for an event like this and for our virtual show has come about due to the effects of Coronavirus and we're taking it head on!    Our market partners are listed here.